RED LION WEBINARS 2020
Due to the ongoing Coronavirus situation The Red Lion Lecture series has moved online with a programme of exciting webinars scheduled over the next couple of months with leading guest speakers from the criminal and regulatory sector as well as senior members of RLC. Our webinars are all free, easily accessible, engaging and interactive and we are pleased to be able to welcome international audiences to participate as well.
Please check below for up to date information on upcoming Webinars and information on how to register.
We look forward to you joining us at what we anticipate will be an exciting and informative series.
---
In 2019 the set launched a lecture series which is described as 'unprecedented' by clients: 'These events are invaluable to the solicitors' profession in terms of continued professional development and are very much highly regarded.'
---
ARCHIVE
2021 EVENTS
NEXT: 27 May 2021 - 'Info Coming Soon'
1: 26 November 2020 - (Recording available) 'A new defence for victims of domestic violence who offend' and 'NRM trials: "Yes you're a slave but shhh it's a secret"'
2: 28 January 2021 - (Recording available) 'Indecent Images and Technical IT Considerations' and 'Consent and the Impact of Intoxication in Sex Cases'
3: 25 March 2021 - (Recording available) 'Hospital Orders: Practical Considerations' and 'The New Sentencing Code Examined'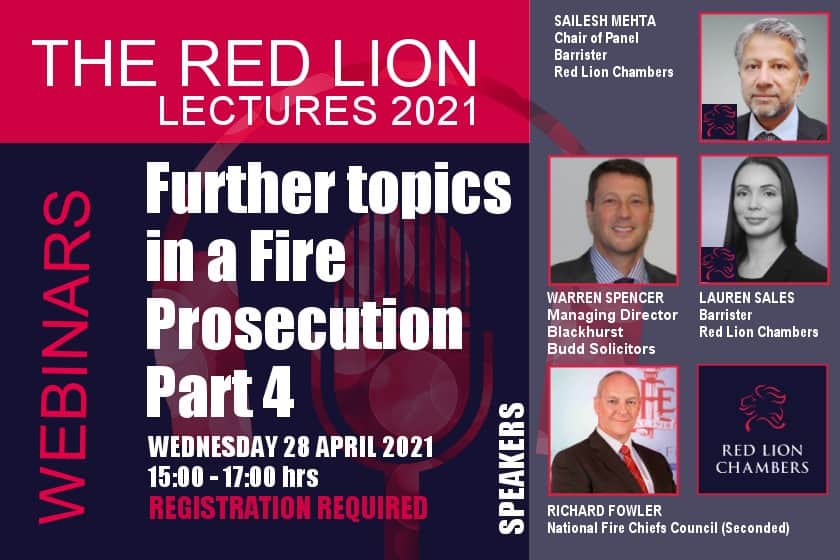 Warren Spencer, MD at Blackhurst Budd Solicitors
Richard Fowler, National Fire Chiefs Council (Seconded)
RLC presents the fourth webinar in our Fire and Rescue services series.
Host: Gillian jones QC, Joint Head of Red Lion Chambers
Harriet Wistrich, Founding Director at Centre for Women's Justice
Ambreen Razia, Actress and Playwright
Róisín McBrinn, Joint Artistic Director at Clean Break
Amanda Richardson, Clean Break Trustee
Jennifer Joseph, Clean Break Member
Join us for an RLC webinar in partnership with Clean Break Theatre Company, where panel members will explore the issues relating to how communities can extend women's sentences after their release.